As an aspiring novelist, you know you need to think up a great plotline, relatable characters and their backstories, interesting and unique settings, and even maybe a fun plot twist! But, how do you organize all your thoughts to make sure nothing gets lost in the shuffle?
While you can use writing software (or even AI novel writing software!) to help you plan out your story beats, most of these software programs can't help with other, more complicated writing tasks. They also often don't help with setting writing goals or organizing your thoughts so clearly. Enter The Novel Factory!! 
In this article, we'll review one of the finest writing software programs – Novel Factory. You'll learn about its features, costs, and whether or not it can help you with your novel or short story. Let's get into it!
This post may contain affiliate links, which means I'll receive a commission if you purchase through my links, at no extra cost to you. Please read full disclosure for more information.
What Is Novel Factory?
Novel Factory is a software program that helps writers create their first draft. It's equipped with several tools and plot templates provided to help any writer create great stories that audiences will love reading! There's also a subplot manager to handle all your core plot details.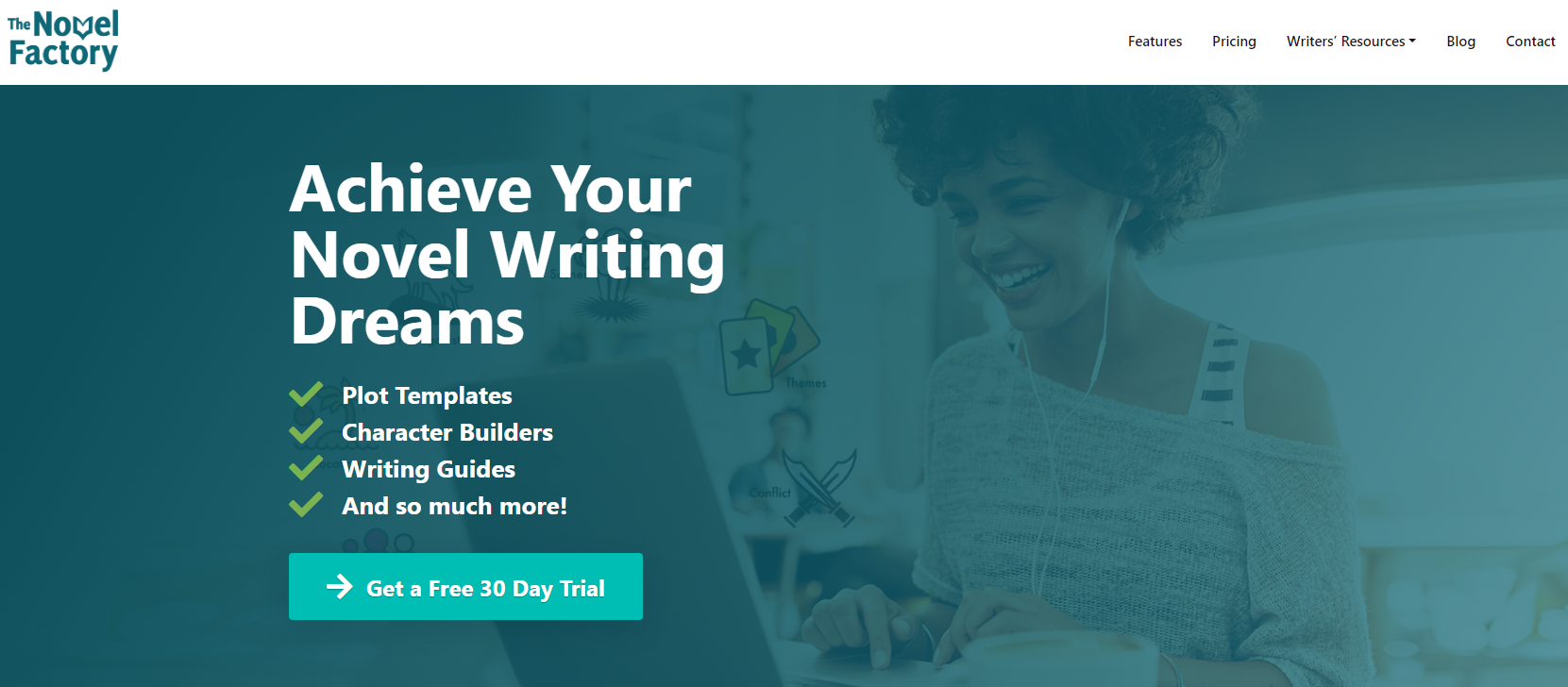 With this, you can kiss goodbye to writer's block, as its interface creates an environment with ideas to help you kickstart and finish a whole novel.
There's also a character-building questionnaire, novel writing roadmap, plot manager, notes board, and other exciting features to ensure you escape all the boring stuff, save time, and become more productive.
Novel Factory
Novel Factory is a software program designed for writers to create their first draft. It offers various tools and plot templates to help writers develop compelling stories, including a subplot manager and a character-building questionnaire.
Overall, it is recommended as a useful tool for novel planning and outlining.
Who Created Novel Factory?
Novel Factory was created by Katja Kaine, a novelist who writes fantasy novels for children and young adults.
The startup founder once said in an interview that the software was borne out of the passion for providing a straightforward process for novel writing.
For Katja Kaine, Novel Factory is a way to share an insight into her novel writing roadmap in a simple and automated style with the world. But for you, what do you stand to gain with it?
Top Benefits of Novel Factory Software
We'll highlight a few benefits of this software below.
A hitch-free writing process: Start and finish your novel with a smooth ride on Novel Factory. Use its professional writing tools and plot templates to get the best with less effort. 
Organized sections: Novel writing can be messy – building characters, writing the plot, taking notes, and everything in between. However, Novel Factory helps you fix these pieces into various segments, making it easy to find, sort, edit, or remove them as you deem fit. 
Saves time: The app brings all writing processes into one big plan, saving time usually spent on putting things together. And guess what you can do with more time on your hands?
More productivity: With more time, you can focus on other pressing matters like book launches (such as described in this article from Scribe Media), marketing, and interviews. You can even prepare to write future novels – your choice.
Best Features of Novel Factory
Novel Factory has several outstanding features. From its popular character builder to a vast library of templated plots in various genres that help you come off as a pro, you're ready for a joy ride.
And though it's set out like a roadmap, it is only a suggested step-by-step guide for your writing process, with flexibility for new writers as well as seasoned pros.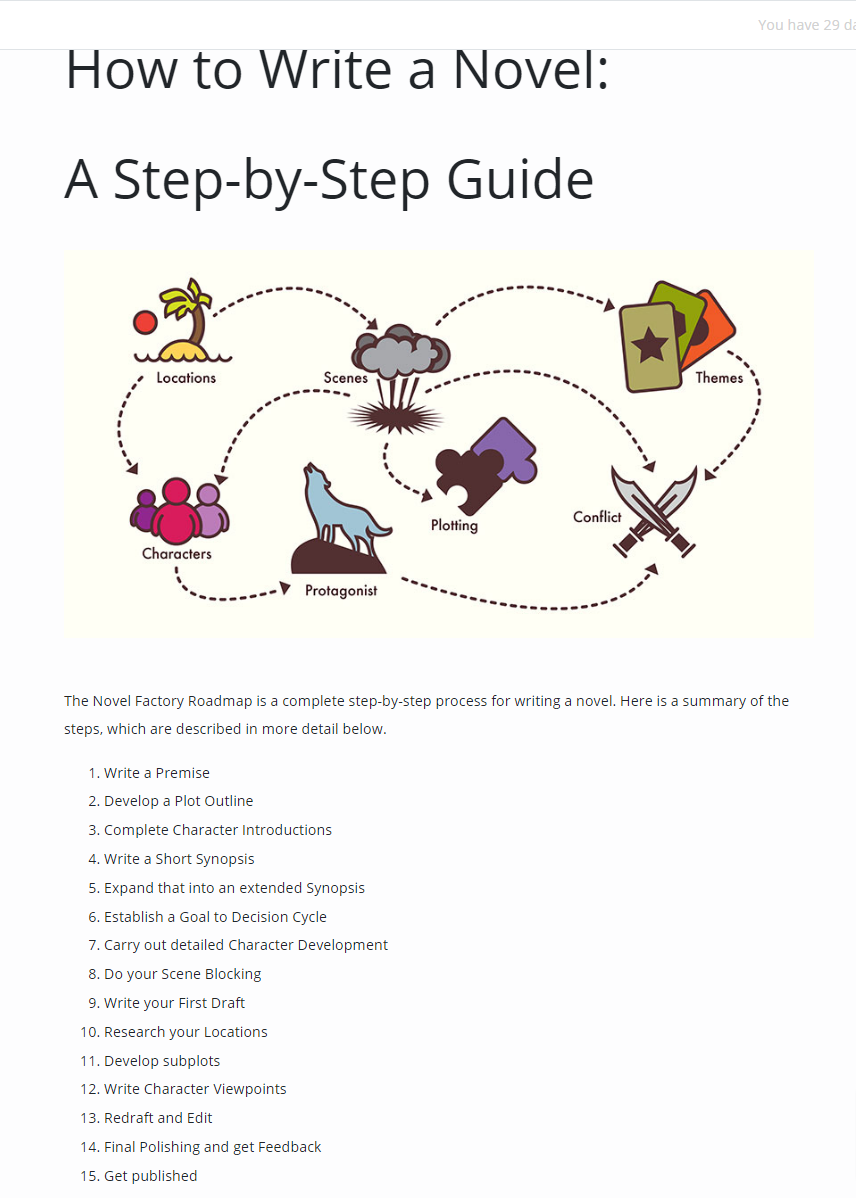 Here, we'll highlight some of its best features.
Intuitive User Interface
Does this come off as a feature? Yes, it does, considering how complex it can be to use other similar writing software. Novel Factory includes an impressive user onboarding design that helps you start writing your first novel with ease.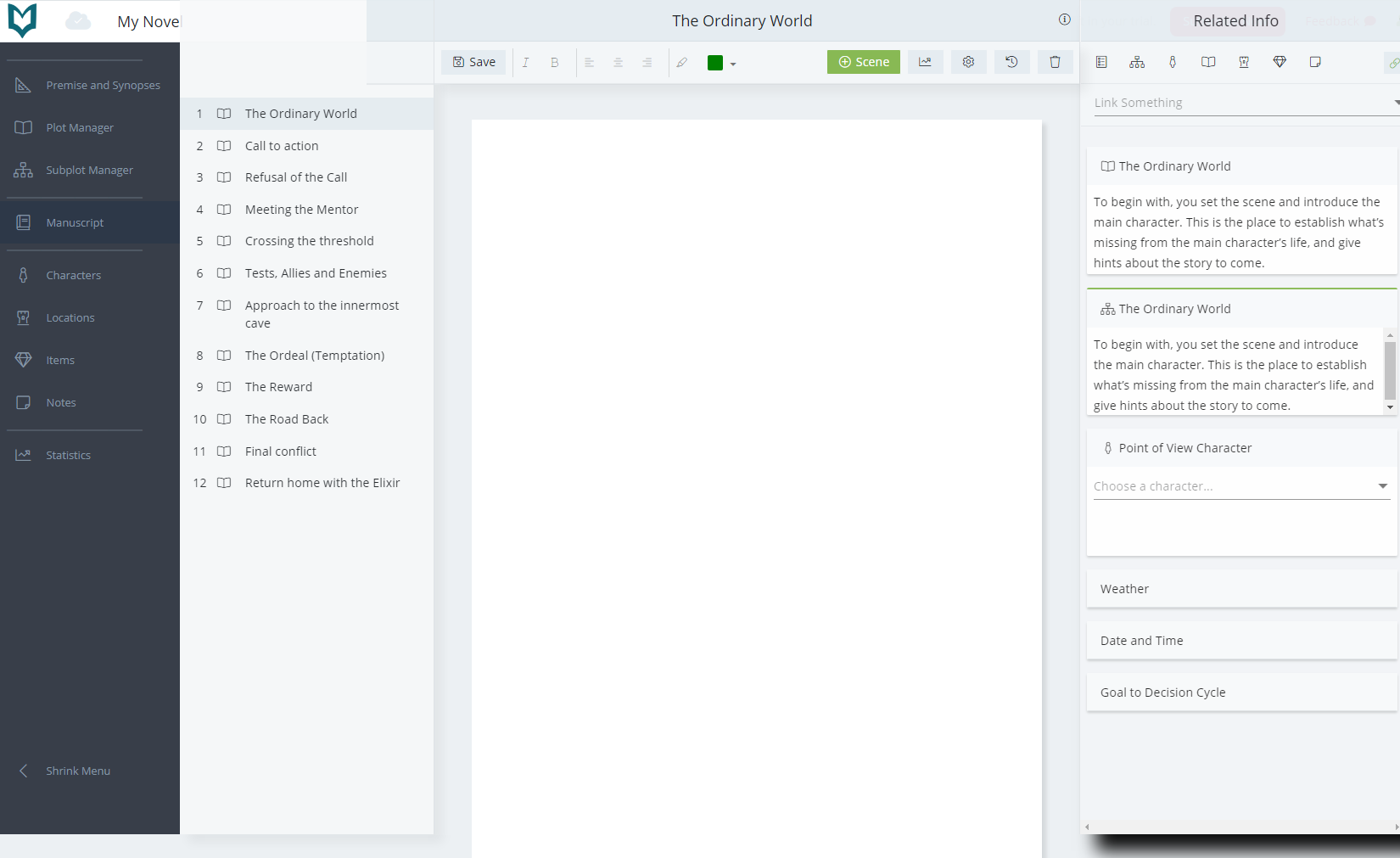 Organized and Dedicated Sections
On Novel Factory, there's a section for everything relating to the novel writing process, from blank pages to the final manuscript, often in a drag-and-drop format.
Each one has prompts to guide you through the required supporting data or what actions to take next – they're like your writing guide for a good story. 
The layout is based on a 15-step process, each with its own dedicated section. For example, the first step is to write a premise based on five major story elements: character, situation, objective, opponent, and disaster.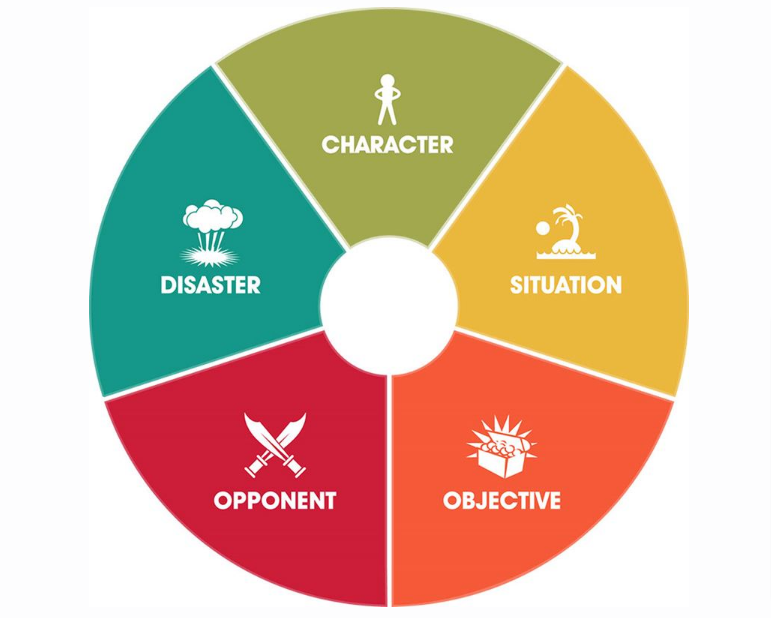 In this section, you input your character's name, followed by the situation they find themselves in following the inciting incident.
Then, you state your character's main objective in the story, followed by their main opponent or opposing force trying to prevent them from reaching that objective.
And lastly, you consider the disaster – or biggest challenge – the character must overcome at the climax of the story.
When you have all these elements figured out, you can summarize them into one or two sentences, giving you a brief overview of your whole story.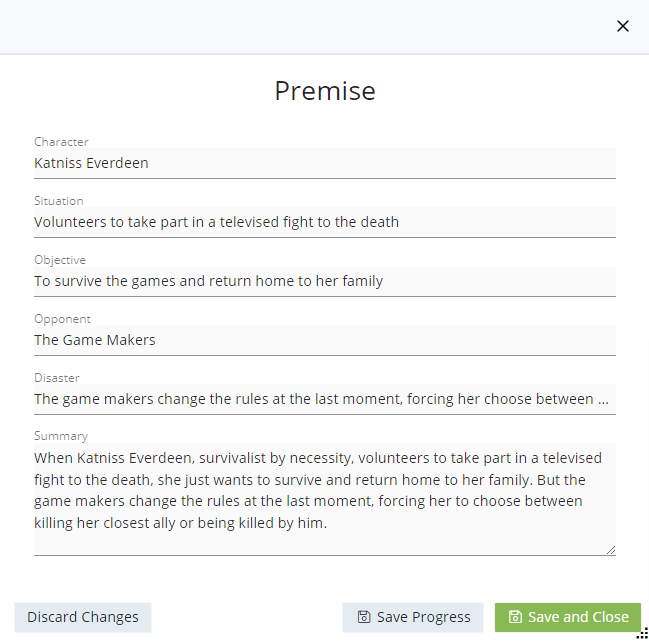 Each section follows this fundamental process, where you have the opportunity to input as much data as you wish to establish key components, such as an outline of the plot points, a character section, synopses, scene blocking (essentially a planning section for each chapter of your novel or each scene of your script), a locations section, subplots, and sections dedicated to specific drafts of your work.
The idea here is that by the time you dive into your first draft, you know your characters, conflicts, settings, and other vital elements inside and out.
This allows you to approach your writing work from a macro level to a micro level, focusing on the items you might have in mind going in and the ones you might not have yet considered.
Many writers could find this level of preparation to be a game-changer.
Character Builder
Complex characters are the starting point for any great story. Building your story characters in the Novel Factory character development section, filled with prompts and questionnaires, can help you paint the perfect pictures.
There's also enough space to write details concerning your character's voice, personality, backstory, physical appearance, and more. 
Using the character questionnaires, you can focus on one or all your characters, creating character profiles and a physical description of each, including inserting artwork or photos for each one as a quick reference.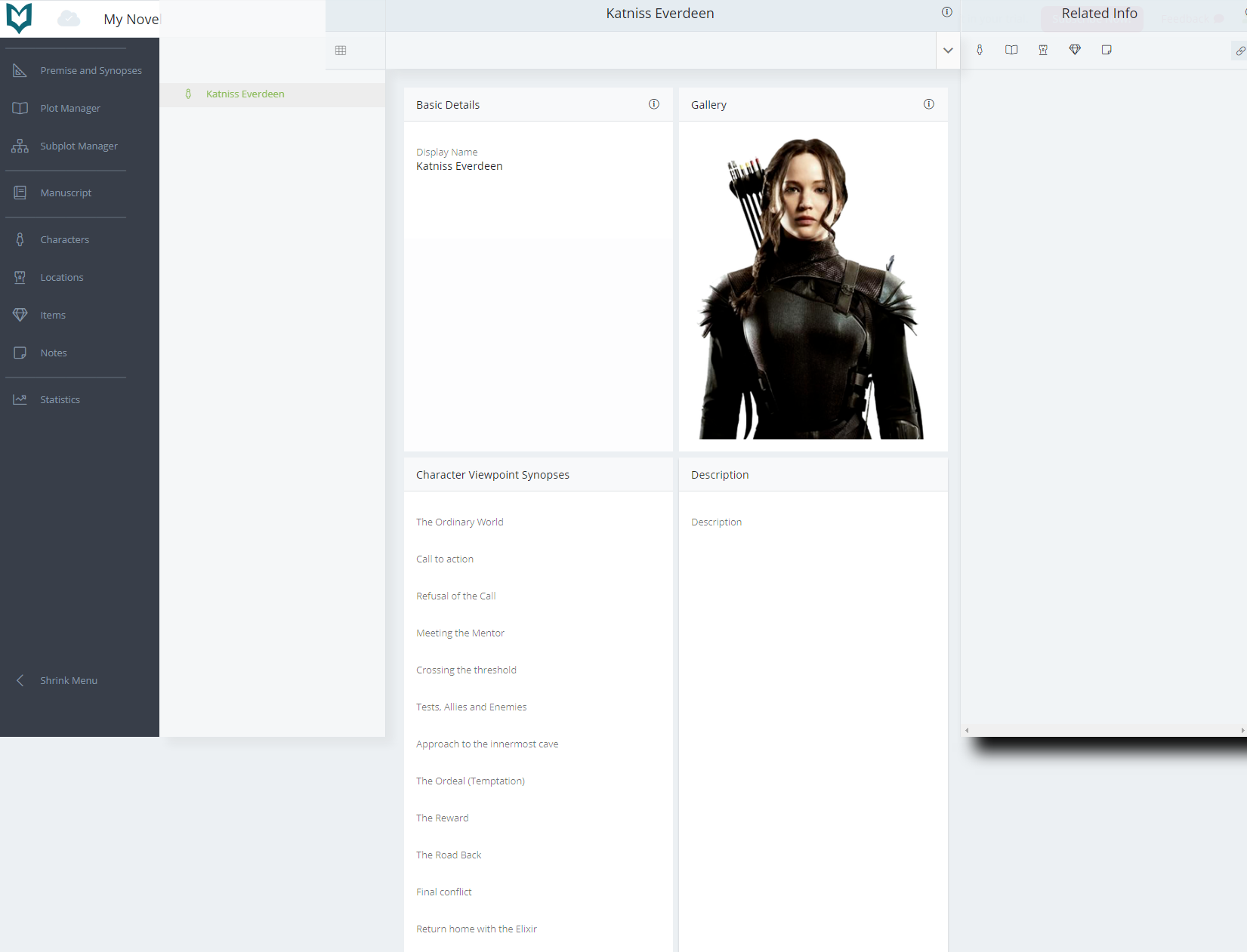 There are interactive sections on backstory, personality, physical appearance, friends and family, past and future, love and relationships, conflict, work and education, hobbies, favorites, possessions, spirituality, values, daily life, and a selection of miscellaneous questions.
Typical questions include everything from "Are they optimistic or pessimistic?" to "What sort of clothes do they wear?" to "What past act are they most ashamed of?" to "If they could have a superpower, what would they choose?"
The amount of potential detail you add to each character is immense. The more you look into who your characters are via the character questionnaires, the better you'll understand their choices, thoughts, and actions as your story unfolds.
And remember, don't just put all your energy into your main character. Your supporting characters, antagonists, and villains are just as important. This feature allows you to give each one the care and consideration they demand to help you write a better story.
Plot Manager
You can take all the tiny bits of ideas and piece them together like a pro using the plot manager feature.
This feature helps you arrange the various parts of your plot arc in a simple drag-and-drop block style, leaving you with an otherwise watertight premise based on both the big picture and individual details.
It also allows you to move around each plot point to adjust the overall structure to suit your changing narrative.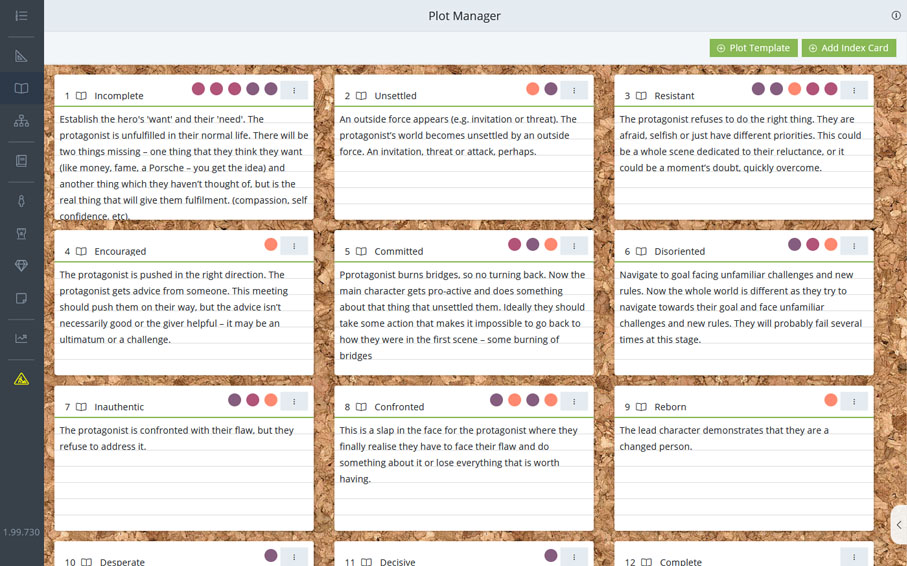 And since a story is more than just the main plot, it's essential to consider your subplots.
While the main plot is the central driver of the story, the subplot(s) add color and depth by introducing layers and complexity, mainly through supporting characters and their direct or indirect connections to the main character.
Additionally, then, the subplot manager helps you dive even deeper, allowing you to map out your various subplots in just as much detail as the main plot while also showing a visual representation of how they tie into the overall storyline.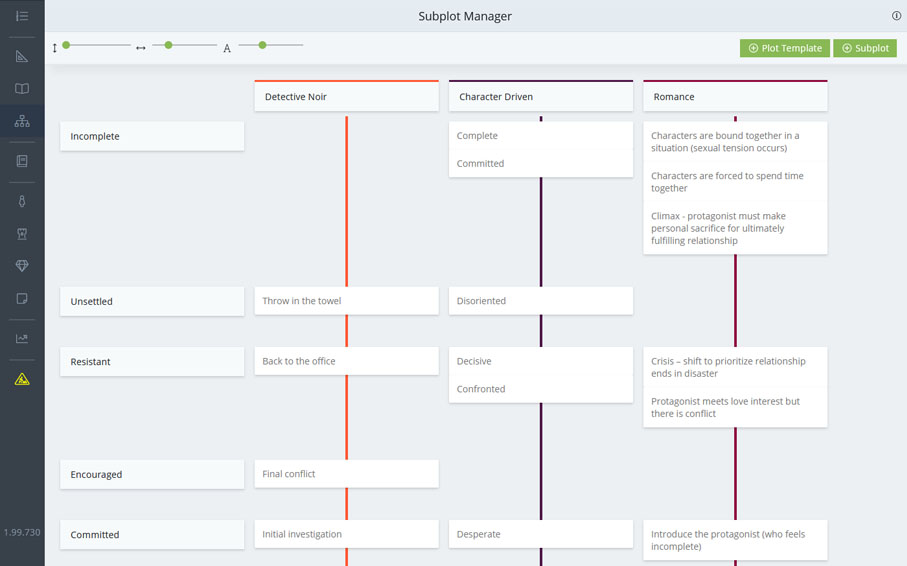 Put together, it's a step-by-step guide to go from the blank page to an initial idea to an eventual final draft of a multi-layered story.
Plot Template
Don't have a plot yet? Use the plot templates featuring several genres, from romance to horror, to map out your plot points with the appropriate story structure and kickstart your writing journey. 
Like the plot manager, this is done in an index card style, mapping out your plot from individual scene blocking to the big picture of your first manuscript.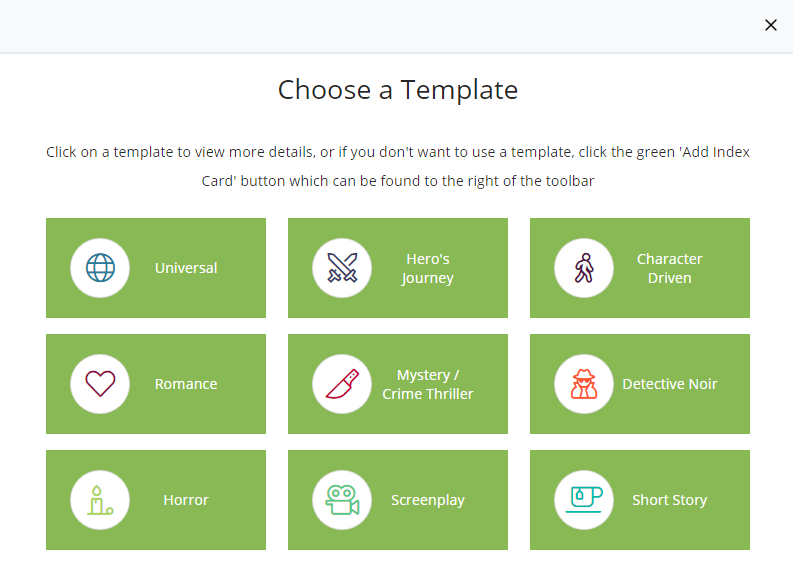 Location Builder
Much like the character builder, this option allows you to look deeper into your story settings, compiling a list of these critical story elements and the ability to flesh them out through the questionnaire prompts.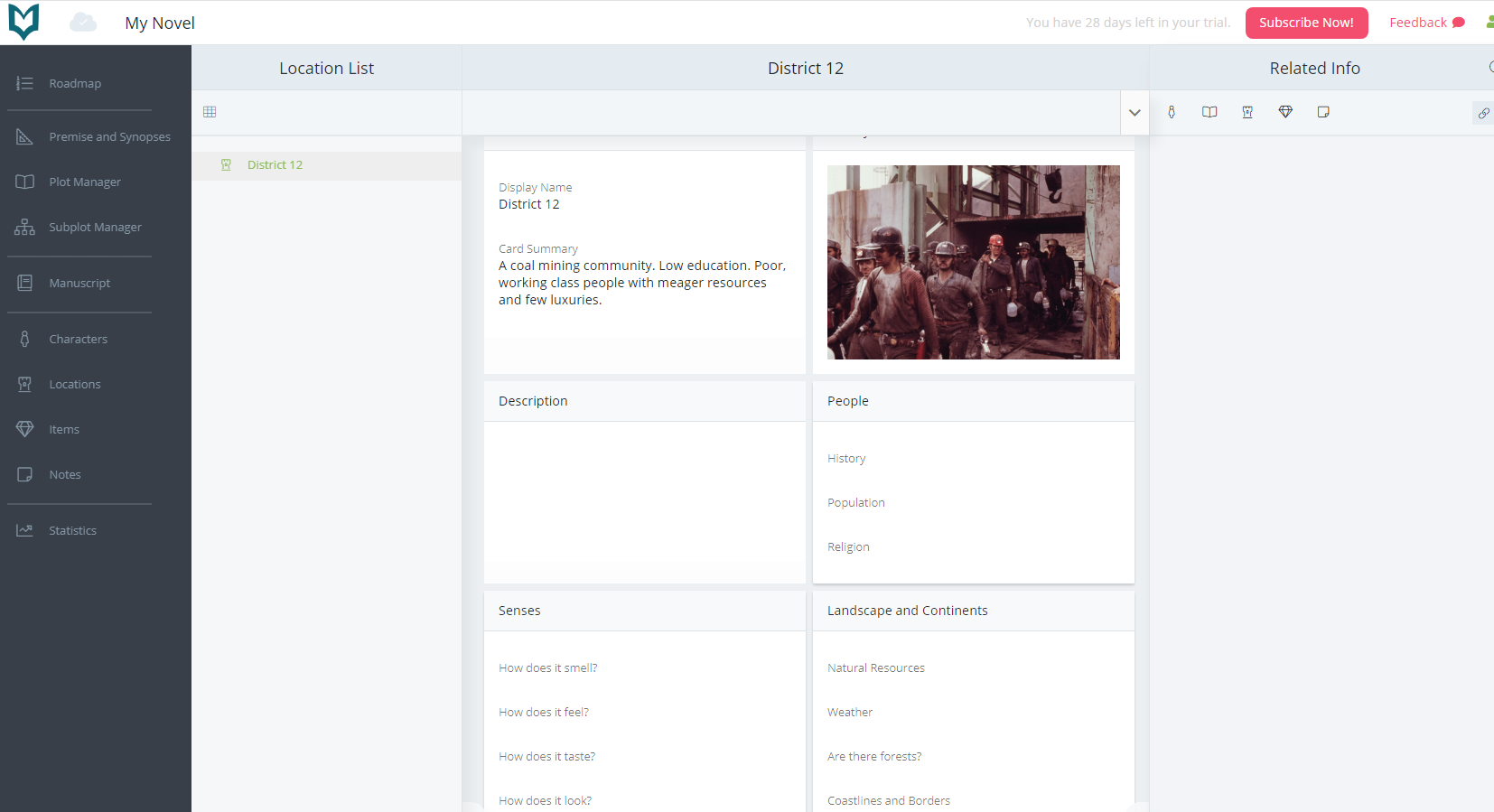 Sections include people, senses, landscapes, climate and weather, flora and fauna, population, governance and economics, education and employment, industries, conflict, family, social rules, food, art, religion, language, fashion, entertainment, science and technology, and even magic.
Typical questions include everything from population size and natural resources to "How long are the seasons?" to "Is there a class system?" to "How does it smell?" to "What is considered a rude gesture?"
This allows you to uncover details about your story's world and settings that you may not have considered at first glance, diving into each location's natural, industrial, socio-economic, religious, and historical aspects.
Synchronized Data
Write from your PC, take notes with your phone, and finish up with your iPad – all your data is synchronized. You can log in from a web browser or use the desktop app with similar features and everything intact.
As long as your internet connection is intact, you can sync your work across multiple devices over the cloud.
Saved History
Novel Factory autosaves your work in the Turn Back Time feature. There, you can find and use previous versions of your work. This way, if you're unsatisfied with your final draft (or any draft along the process), you can revert to a previous version with the click of a button. 
Progress Statistics
This feature helps you learn about the project's progress and keep track of how many words you've written, with breakdowns on word count by metrics like section or date. You can also spice up your writing journey by setting daily word count targets. I love this feature, as it helps keep me on track with my writing projects!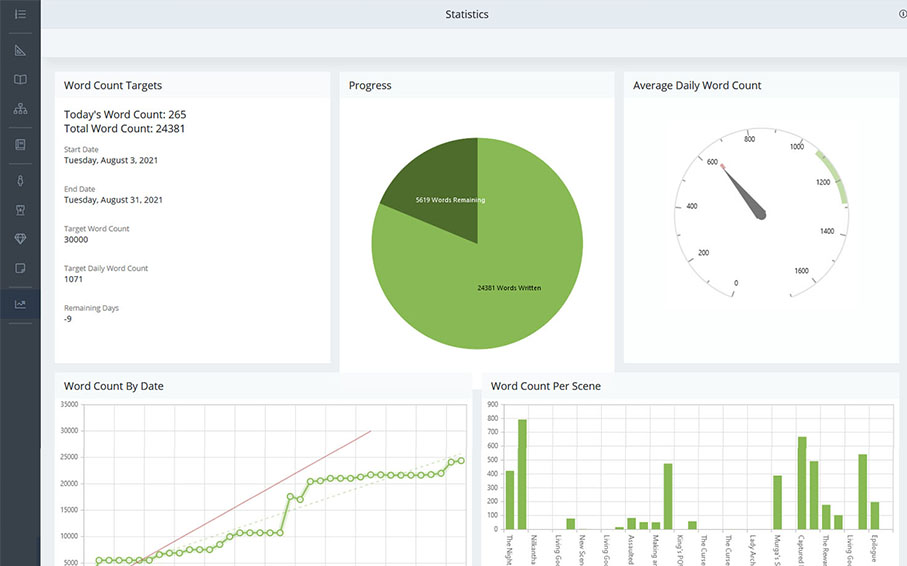 Export Your Project
While writing on Novel Factory can be fun, you can export your project and all data to a Microsoft Word doc in a few clicks. So, you're not tied to the app if you ever need to take your work elsewhere.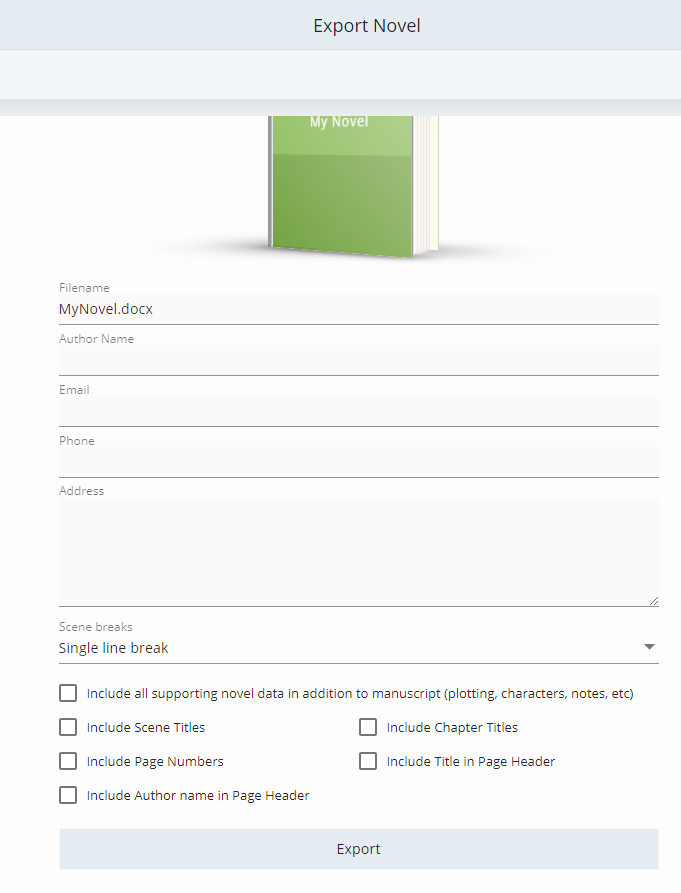 Who Should Use Novel Factory?
Novel Factory has several rich features to fit new and established novel writers. 
While new writers will find it valuable for putting the entire novel writing process together, an experienced writer might use this tool to save time and increase productivity.
However, the software features are geared towards supporting more fictional writing. So, non-fiction writers would be better served by using a different book-writing software program such as Scrivener. 
Ultimately, it's best for fiction writers at any level of professionalism.
Novel Factory Plans and Pricing
Novel Factory offers several plans on a monthly or yearly basis.
All features are included, with the ability to sync between the desktop and online web versions so you can work on the same file regardless of platform. 
The desktop version is only available on Windows-based computers, so Mac users must rely exclusively on the web-based version.
Monthly Plan
There are three subscription packages in the monthly plan. You can subscribe to the basic, standard, or premium package. The only difference between them is the storage space and the potential number of novels you can write.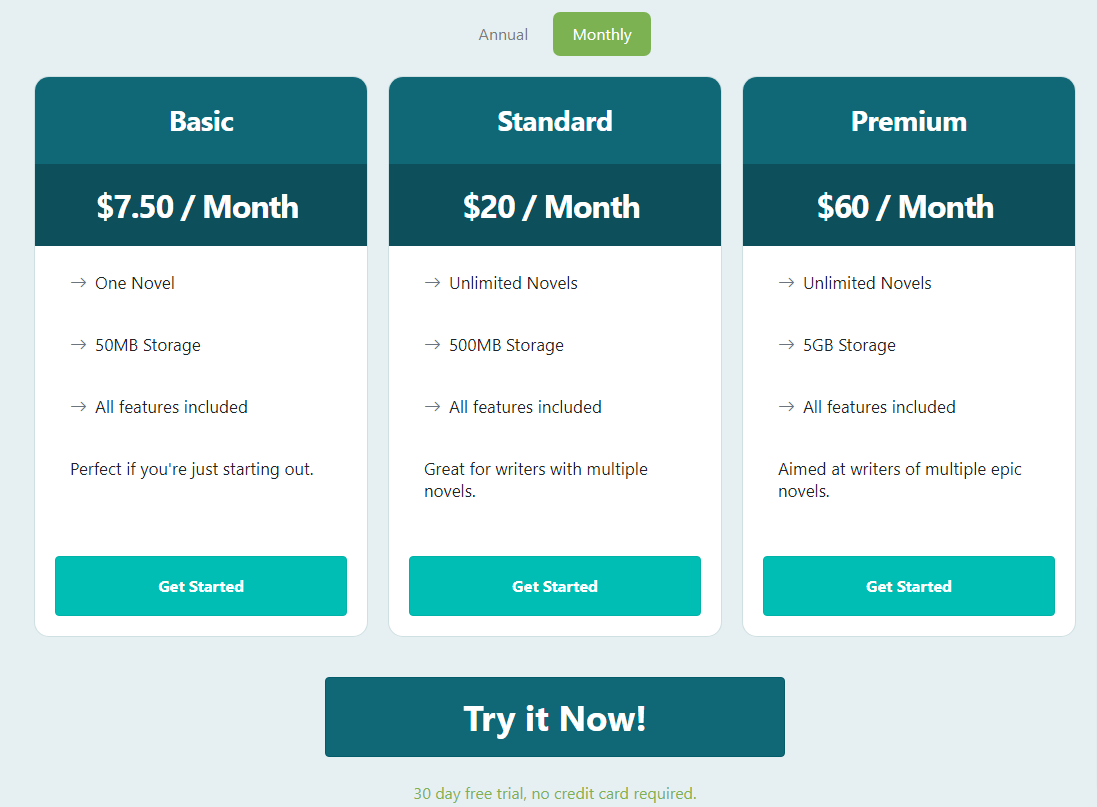 You're only allowed 50 MB of cloud storage and a single novel for the basic package. This costs $7.50 per month and is best if you're starting as a writer, working on your first manuscript, or only interested in tackling a single novel at a time.
The standard package costs $20 monthly and offers 500 MB of cloud storage. You can write unlimited novels on this plan within the storage limits. This is an excellent option for established writers working on multiple novels or a series of novels.
The premium package at $60 offers you over 5GB of cloud storage and unlimited novels within the storage limits. This is a more professional plan aimed at writers with a heavy novel or page count in mind. 
Yearly Plan
The yearly plan offers the same packages as the monthly payment option. However, Novel Factory software offers you two months free for each package you order on the yearly plan – you pay for ten months instead of twelve.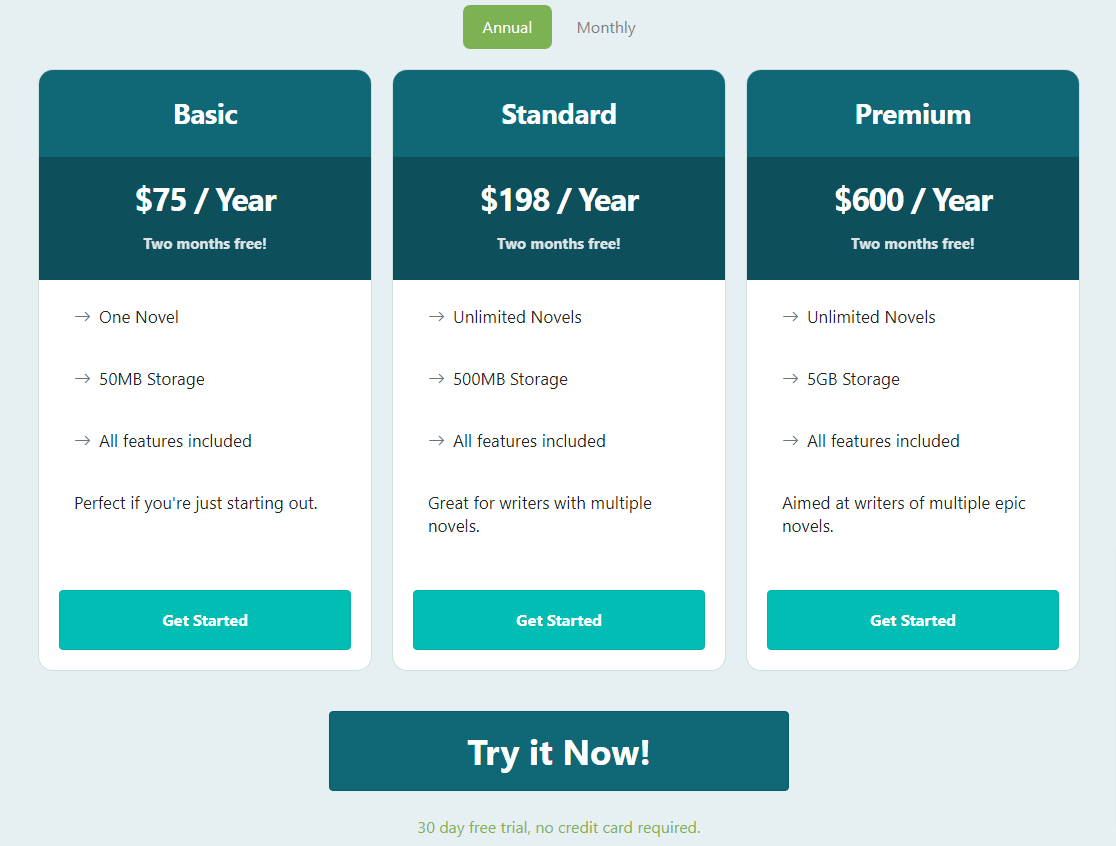 In other words, you pay:
Basic package – costs $75/year and provides 50MB of cloud storage.
Standard package – costs $198/year and provides 500MB of cloud storage.
Premium package – costs $600/year and provides 5GB of cloud storage.
However, if you're on the fence about the best options, you can use the 30-day free trial to test the online and desktop versions. It's available on both a desktop app and an online version over the web. 
Novel Factory Pros and Cons
Novel Factory offers some of the best outlining features. However, there are still a few downsides to using it. In this section, we'll discuss some of its pros and cons.
Novel Factory Pros
Detailed planners: The software features enough space to input as much detail as you want, especially in the setting and character development sections. There are also prompts with questions that help you to dive deep into these story elements.
Work on the go: Work never stops – you can take it wherever you go, as long as there's internet access. Log in with any of your devices and continue writing from where you stopped.
Ready-made templates: There are templates on over nine different genres you can build on. And a subplot manager to take things further.
Track your successes: You can see milestones you've achieved, or word counts you've reached in the statistics section. 
Set Goals: Work gets better and fun when there are goals to score. Novel Factory allows you to set daily word count goals, measure your progress and efficiency, and keep your eyes on the finish line.
Moderate Price: Compared to its offerings, the cost of Novel Factory is fair. With $75, you can write your first novel, while with $200 or $600, you can create an unlimited number of novels all year round – quite impressive.
Novel Factory offers several perks that push any novel from idea to polished manuscript. However, there are a few things worth considering.
Novel Factory Cons
Not ideal for all types of writers: Novel Factory templates are best for fiction writers. Although you can download your template, non-fiction writers might not get the best out of it. The world-building section might not be detailed enough for some fantasy or science-fiction writers.
It might be complex for some writers: Some writers may find the elaborate detailing complicated, especially in the character-building section, where there are over 280 questions for a single character. Although answering all the questions isn't compulsory, seeing them can be discouraging for novice writers.
Compatibility: Mac users are limited to using only the online version, as currently, no desktop app is available for the OS. 
Limited import functionality: If you've already written a manuscript in a different program, there is limited functionality to import the entire document into Novel Factory. When you generate a new novel file, you have the option to import a file only from Word, Richtext, OpenOffice, or HTML. You also have to separate your manuscript into scenes (i.e., chapters) to fit into the structure set out by Novel Factory. Otherwise, if you're currently writing on Google Docs or some other unsupported platform, the only solution is to generate scenes and copy and paste from the existing work into Novel Factory, which could be time-consuming, depending on the size of the work to be transferred.
The Novel Factory team continues to work on the software to ensure that it's suitable for many writers and compatible with as many devices as possible. But there are several other options you can try out if you don't find this a good match for your task. 
Novel Factory Alternatives
Here's a list of some Novel Factory alternatives.
Scrivener (better for non-fiction writers)
Sudowrite (better for creative writers who want AI assistance with their story)
Writer (completely free writing software)
Dabble (very easy to use)
Storyist (a similar alternative)
Common Questions About Novel Factory
Is Novel Factory Worth It?
Novel Factory has several impressive features suitable for new and experienced writers. Compared to other outlining apps with specific functions, it's all-inclusive and can help you start and finish your writing in less time.
It's worth a try if you're looking for a way to arrange your writing processes together and get things rolling fast.
Is Novel Factory Free?
Novel Factory is only free for 30 days as a trial. You can use any of its features and choose between desktop and online versions. However, you'll have to make some financial commitment to enjoy more.
Currently, the desktop version is only available on PC, while the online version works across most platforms.
What Do You Get if You Win NaNoWriMo?
Many writers take part in NaNoWriMo (National Novel Writing Month), an informal competition that takes place every November, and where the goal is to write 50,000 words (the minimum number of words for a work to be considered a novel) starting November 1 and finishing before the month's end.
Winning NaNoWriMo is a considerable feat for any writer. Although you get a NaNoWriMo winner badge for display and enjoy the recognition, you also walk away with the feeling of accomplishing something great. Finishing a 50,000-word novel in such a small timeframe is no small feat.
What Is the Best Platform to Write a Novel?
The best platforms to write a novel are those with intuitive interactive features, help guides, and organized segments. They can help you write better and save time while offering the best price. If we're to put a name to it, we can say Novel Factory fits this bill.
You can use other platforms, depending on what you need to write your novel. Sudowrite is an amazing AI story generator that can even help you write dialogue and stories. Scrivener is another novel-formatting software program that can help you organize your novel.
Sum-Up: Should You Buy Novel Factory?
Novel Factory can be a great writing tool for your stack if you need a place to organize your thoughts and plan your work.
It's also best for new writers trying to find their feet or published writers looking for ways to escape the boring stuff like building a template. However, you might find it too complex if you're not one to put up with much detailing.
Overall, Novel Factory is a tool you will likely find helpful once you give it a try!
Interested in writing a novel? Check out these other fantastic articles!
Sudowrite Review: A Fantastic AI Fiction Writing Tool
The Best Writing Tools for Fiction Writers (Reviewed!)