2023 has seen an explosion in AI technologies. It's almost impossible to hear a single conversation about art or writing without somebody mentioning artificial intelligence and its impact on the field.
Many fields get underestimated in terms of the radical effect artificial intelligence has on them, though. Video editing is one of those fields. AI editing tools have proven to be a total game changer—they can save lots of time and effort by automating specific tasks.
Many editors consider InVideo to be the best video editing software with AI editing features. It's one of my favorites, too!
While InVideo is indeed a top-of-the-shelf product, many InVideo alternatives offer the same features at a more affordable price or perform better in particular areas.
To help your search, I've compiled this list of the best alternatives to InVideo, discussing their top benefits and who they're best suited for.
This post may contain affiliate links, which means I'll receive a commission if you purchase through my links, at no extra cost to you. Please read full disclosure for more information.
Best For Shorts
Pictory
Pictory is a great AI video editing program for anyone who needs to create short videos.
It's also amazing for turning your text into automatic videos with AI.
Best For Social Media
VEED.io
If you do live streaming for social media channels, VEED might be the best AI video editing program for you!
It can add subtitles automatically, and it's optimized to use on mobile devices.
best for Beginners
Filmora Wondershare
Video editing newbies may appreciate using Filmora Wondershare the most.
It's super easy to use, has tons of editing features (like background removal), and it's very affordable!
best for Podcasters & YouTube
Descript
Descript started out as a podcasting software, so it's claim to fame is amazing audio!
It's now a fantastic video editing program too, but it continues to shine with its sound editing. It can even use AI to clone your voice for use in your videos!
best For Professionals
Adobe Premiere Pro
Premier Pro is likely the best InVideo alternative if you need to edit videos to look slick and professional.
This program has tons of high-quality editing features, and it's the program of choice for many video editing pros!
What Are the Best InVideo Alternatives?
After testing some of the best video editing software available on the market, I've picked out the ones with the most robust AI editing capabilities and compared them to InVideo in terms of features, performance, and price.
Here is my list of the 11 best InVideo alternatives!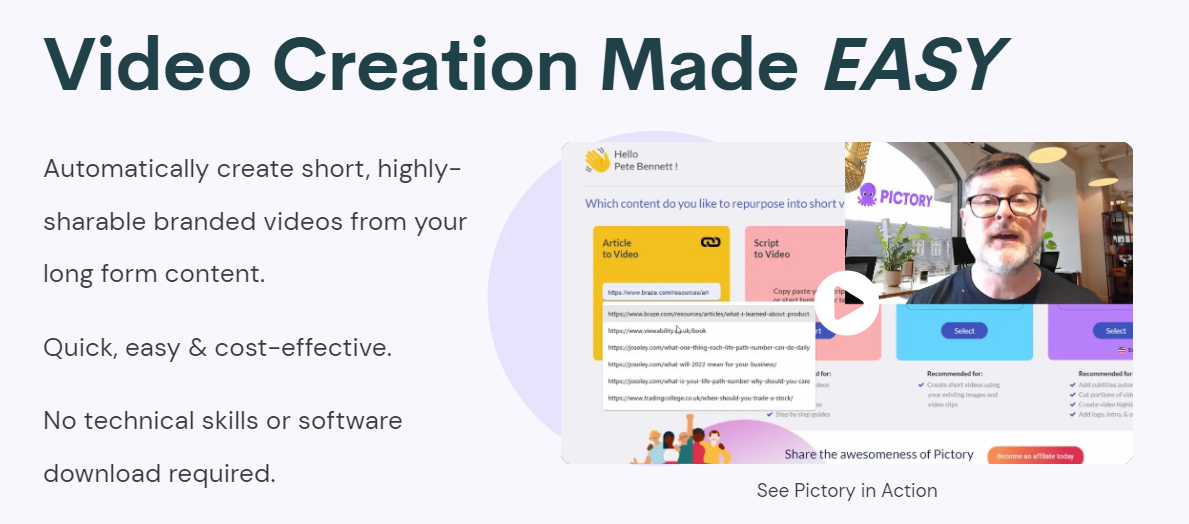 Pictory is an online video editor focused on creating and editing short-form video content. Its main selling point is its ability to automatically identify and extract "golden nuggets" from longer videos, turning them into short video clips perfect for marketing purposes or social networks.
It also contains multiple other nifty AI tools, such as the ability to create automatic captions or turn text into video. Above all, it's easy to use, making it great for people with no previous experience in using video editing software.
Top Benefits
Easy to use: Pictory has an easy-to-learn, well-organized, and intuitive interface, making it easy to use for almost all users.
Highlights feature: It can help you save time by automatically extracting short highlights from longer videos – perfect for creating social media reels!
Text prompt generation: It's possible to generate highly engaging videos from text prompts.
Pricing
Three plans are available: Standard, at $23/month, Premium, at $47/month, and Teams, at $119/month. With an annual subscription, these plans are discounted to $19/month, $39/month, and $99/month, respectively.
A free trial is available, letting you create three video projects up to 10 minutes long.
Bottom Line
Pictory's ability to quickly generate or extract highly effective short video snippets makes it perfect for social media marketers and online course creators.
To read my full review of Pictory, see Pictory Review for Easy AI Video Creation.
---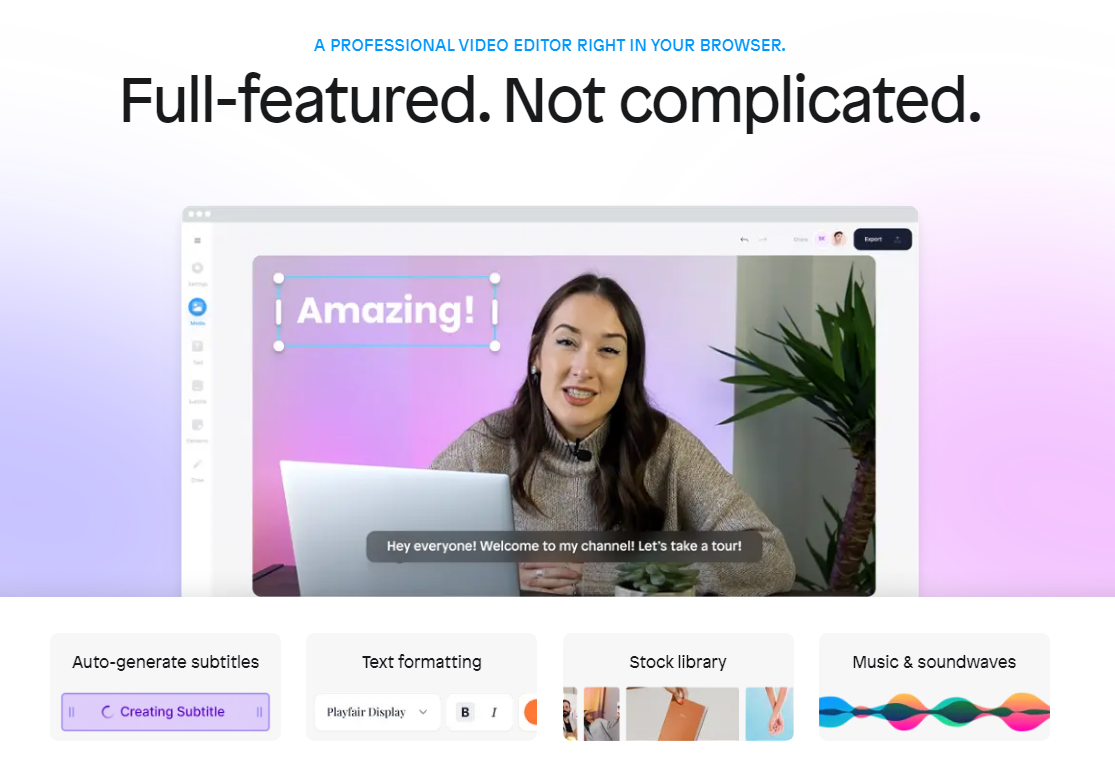 VEED notably offers a rich library of video templates that helps users create videos in no more than a few minutes, no matter their use case. The platform offers multiple AI video editing features that can instantly enhance your videos, such as background noise removal or visual effects.
Instant AI-generated subtitles, available with a single click, are among this video editor's best features.
The simple drag-and-drop interface makes VEED count among the most user-friendly software on the list. It's also fully optimized for mobile platforms for easier accessibility while on the move.
Top Benefits
Vast template library: VEED's constantly growing number of customizable templates lets you quickly generate videos for any purpose.
Video reframing: It can instantly resize videos into preset dimensions for various social platforms.
Live video editing: You can use the platform's editing tools while recording a video or doing a live stream.
Pricing
A free plan is available with a watermark, a 10-minute video limit, and a 30-minute cap on subtitles.
Paid plans are available at three levels: Pro, Business, and Enterprise, costing $30/month, $70/month, and $100/month, respectively. There's a discount for annual subscriptions, bringing the costs for Pro and Business down to $24/month and $59/month. Enterprise is available with an annual subscription only.
Bottom Line
VEED's quick AI editing abilities and features, such as live video editing and social media integrations, make it the ideal choice for streamers and social media content creators.
For my full review of VEED.io, check out Veed.io Review: An Impressive AI Video Editor.
---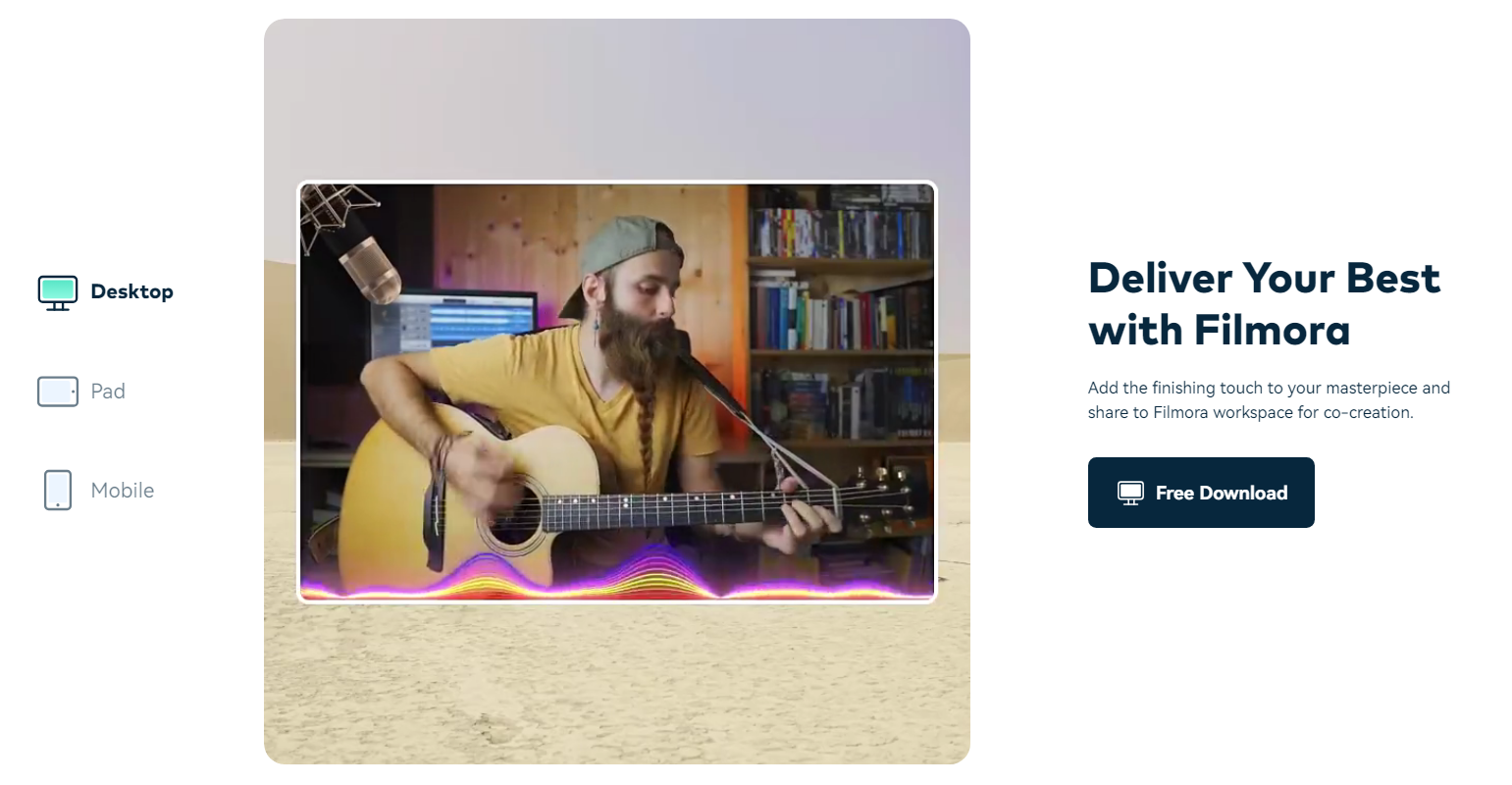 Wondershare Filmora is a popular video editor which lets users enjoy professional-quality video editing wrapped in one of the most accessible packages available on the market.
With features such as automated color correction, AI motion tracking, noise reduction, and many more, the platform has everything that a beginner video editor may need.
It also has fully featured dedicated apps for desktop, mobile, and tablet platforms, making it usable even on the go.
Top Benefits
Huge media library: Filmora offers a huge library with millions of royalty-free media, both stock videos, and images, as well as an enviable music library. This will allow you to produce engaging video content very easily as a beginner.
AI Smart Cutout: The Smart Cutout feature lets you easily trace and remove objects from videos. This also makes it possible to change the background with no green screen.
Add general effects to several video clips: Using the Adjustment Layer feature, you can add general effects to multiple clips at once. This makes creating compound clips infinitely easier.
Pricing
Wondershare Filmora has three basic individual plans. A regular subscription lets you use Filmora on a Windows PC for $19.99/month or $49.99/year. A Perpetual Plan is a one-time purchase that lets you use the current version of Filmora on your PC forever for $79.99. The Cross-Platform Plan lets you use Filmora on desktop, tablet, and mobile for $69.99/year.
It's also possible to buy scalable custom Team or Business plans. There are also special education plans for students and educators.
It also offers an unlimited free trial version, which, unfortunately, puts watermarks on all exports.
Bottom Line
Wondershare Filmora's affordable price, combined with its powerful features, makes it an excellent choice for beginner video editors. The particular mix of editing tools makes it especially appropriate for digital content creators.
---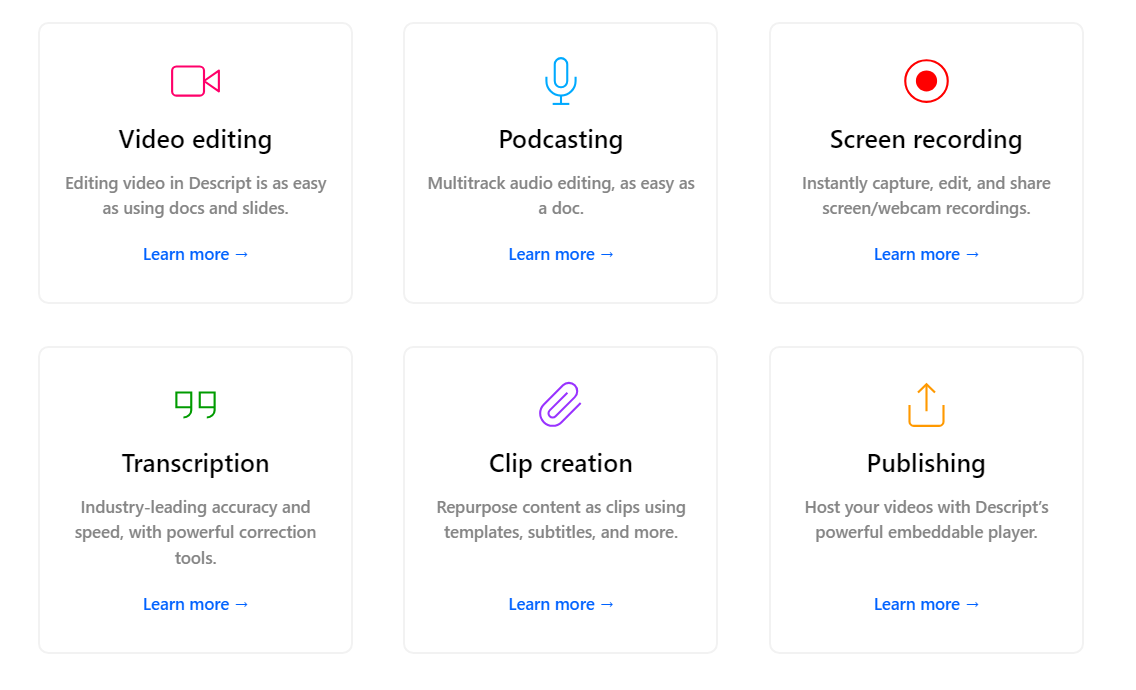 Originally marketed as a podcast transcription tool, Descript recently got a big rebrand as an all-in-one video editing software. While still primarily geared toward podcasters, the platform became a robust video editor, mainly relying on AI editing.
While visual editing remains somewhat rudimentary, the editing tools include features such as studio-quality sound enhancement, filler word removal, overdubbing, and much more.
Top Benefits
Edit audio files and tracks: Descript's audio editing capabilities are among the best in the market, showcasing its roots as a podcast editing tool.
Screen recorder: You can record your screen without leaving Descript and edit it immediately.
Overdub modeled after your voice: Its AI tech will recognize your voice and model an ultra-realistic replica you can use for overdubbing via text-to-speech.
Pricing
Descript has a free plan, limited to only one watermark-free video per month and one hour of transcription.
Creator and Pro plans are available at $12 and $24 per month. A custom Enterprise plan is available at a negotiable price.
Bottom Line
Though it's advanced beyond being a simpler podcast editing tool, Descript remains one of the best video editing software in terms of audio editing capabilities. Podcasters should find these features especially useful, as well as interviewers.
---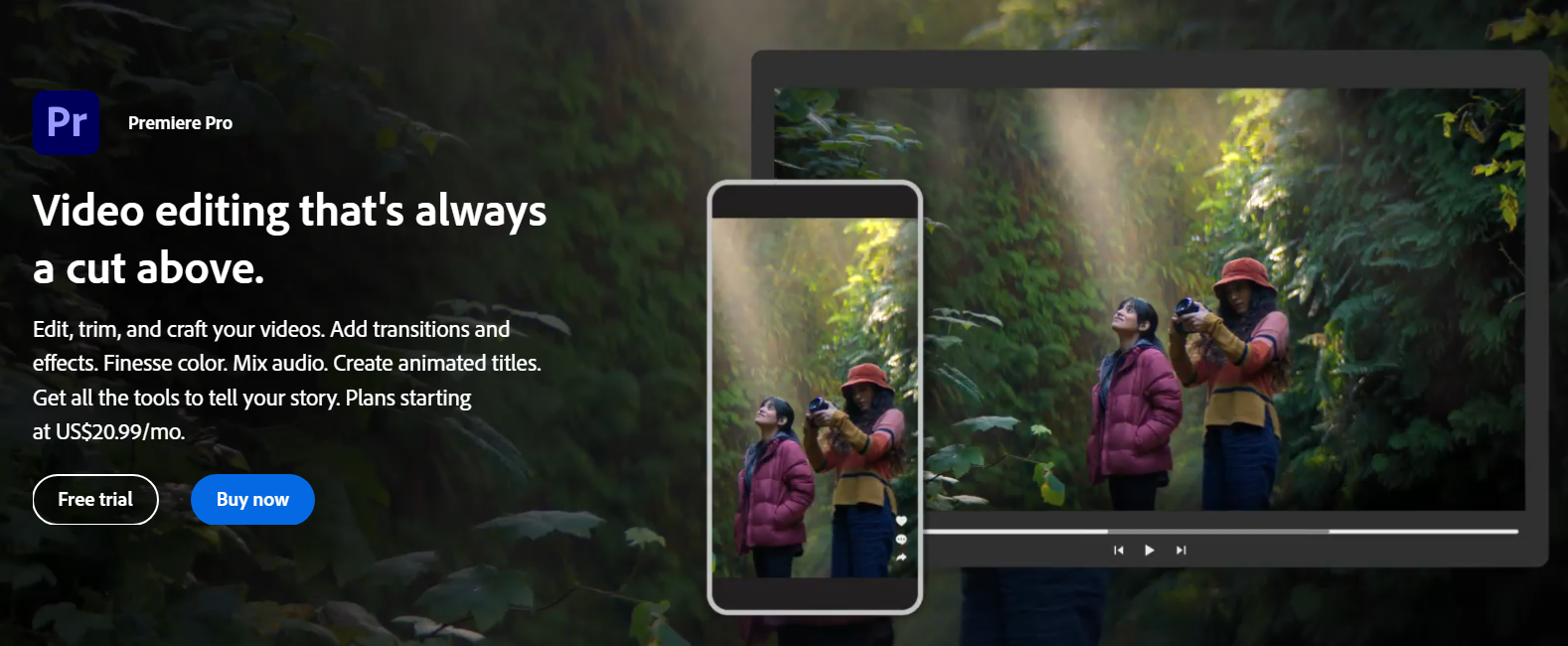 Adobe Premiere Pro doesn't need a long introduction. For over 20 years, it has steadily remained among the leading video editing software tools. As a professional-grade video maker, it's one of the more complex tools on this list.
Despite its relative accessibility, Adobe Premiere Pro is capable of almost anything a video editor may set their mind on. It sounds strange, but the septuple Academy Award-winning Everything Everywhere All at Once was edited entirely in Premiere Pro.
Top Benefits
Robust AI editing tools: Adobe Premiere Pro features many AI-powered and manual tools that can bring the best out of your video, such as text-based editing, speech enhancement, auto-ducking, and much more.
Customization: The app is highly customizable, letting you customize the workspace and shortcuts however you see fit.
Edit 4k, 8k, and 3D videos: Premiere Pro lets you edit not only 4k and 8k videos but even 3D ones, which is still rare to see in video editing software.
Pricing
The stand-alone version is available for $20.99/month, while a Creative Cloud subscription costs $54.99/month. 30-day free trial available.
Bottom Line
As a powerful tool capable of easily creating stunning videos, Adobe Premiere Pro is popular with all kinds of professionals who need to edit their online video. At an affordable price, it can even be used by professional filmmakers without compromising their original vision.
---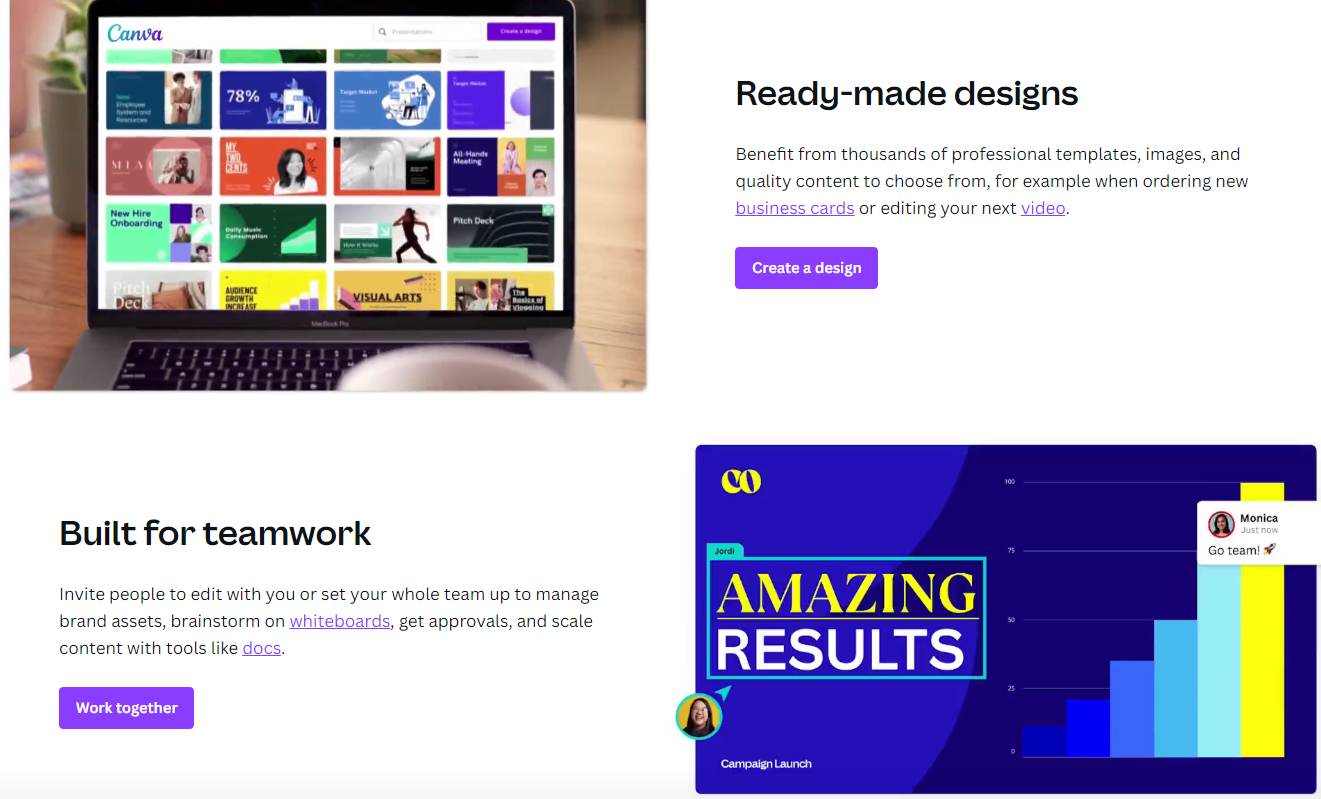 Canva began its journey as an image editor, but over time, it expanded into video editing, becoming a powerful all-in-one editing solution. Although packed with features, it remains a surprisingly user-friendly editor with a simple drag-and-drop interface.
Canva's simple interface makes its power and versatility less instantly obvious. With just a few clicks, you can use its video editor to edit videos through dozens of various features and tools.
Top Benefits
Content calendar integration: Canva directly integrates with a calendar, making it possible to schedule and publish finished videos directly from the editor.
Hundreds of thousands of templates: With Canva, you can access a virtually unlimited number of award-winning templates.
100+ million royalty-free items: With a gargantuan library of royalty-free multimedia content powered by several stock media companies, including the iStock media library, you are bound to always have the right stock photo, video, or audio recording right at your disposal.
Pricing
Free version available. Pro and Teams plans are available at $12.99/month and $14.99/month, or $119.99/year and $149.90/year, respectively.
Bottom Line
Canva's huge library of templates and royalty-free content, combined with its built-in content scheduling features, makes it a perfect solution for content marketers.
If you're interested in my thoughts on Canva, you can read Canva AI Image Review: Create Free AI Images.
---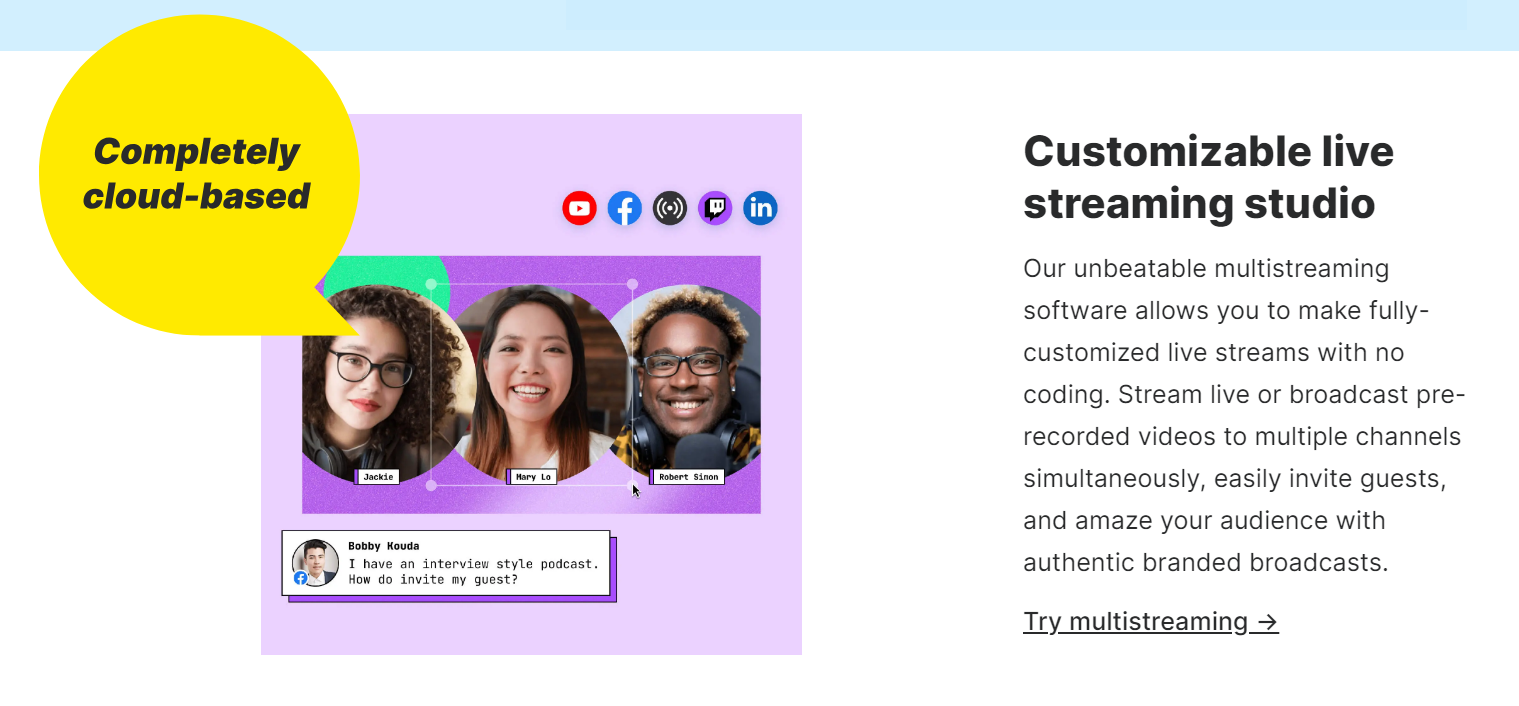 The Wave.video marketing team promotes its online video editor as the most accessible video creation platform. The app truly delivers on that promise—it boasts a simple drag-and-drop interface that overlays a solid all-in-one suite.
Wave.video includes a video editor, recording and live streaming features, video hosting, a stock video library, and even a thumbnail maker for social media graphics.
Top Benefits
Converters: Wave.video includes built-in converters and downloaders, converting Youtube and Instagram videos into an MP3 or MP4 format.
Video marketing tools: This video editor has a selection of video marketing tools focusing on blogs and social media, making it easy to optimize and instantly publish marketable video content.
Co-streaming: It's possible to create a video stream with multiple users at once, as well as edit their streams in real time for optimal quality.
Pricing
The free version lets you create and edit amazing videos up to 15 minutes in length with a watermark.
Streamer, Creator, and Business plans are available for $20/month, $30/month, and $60/month, respectively. With an annual subscription, this is discounted to $16/month, $24/month, and $48/month.
Bottom Line
While Wave.video lacks certain features exhibited by more complex video editors, its easy learning curve and marketing and social media integrations make it ideal for streamers, web influencers, and social media marketers.
---
Lumen5 is another AI video editor that lets users create professional videos with minimal prior knowledge through a highly user-friendly drag-and-drop interface. Used by the marketing teams of corporate giants such as Cisco, Siemens, or Mitsubishi, the platform has successfully positioned itself as one of the most serious alternatives to InVideo.
For all its powerful features, video creation in Lumen5 is about as simple as creating PowerPoint presentations.
Top Benefits
Business branding: You can create custom business branding to apply to all your subsequent videos.
Turn blog posts into videos: Lumen5's AI tech can turn an entire blog post into an awesome video. This is perfect for quickly creating promo videos that use marketing blogs as a prompt.
High-quality template library: Lumen5's array of customizable templates lets you create engaging videos for all professional purposes.
Pricing
The free Community plan lets you create unlimited 720p videos, which is a decent free InVideo alternative, if you don't mind the watermark.
Paid Basic, Starter, and Professional plans are available at $29/month, $79/month, and $199/month, respectively. With an annual subscription, they are discounted to $19/month, $59/month, and $149/month, respectively. An Enterprise plan is also available at custom pricing.
Bottom Line
Lumen5's features, especially the ability to quickly turn blog posts into videos and access many templates and premium stock videos, make it perfect for marketing professionals who wish to create highly engaging video ads.
---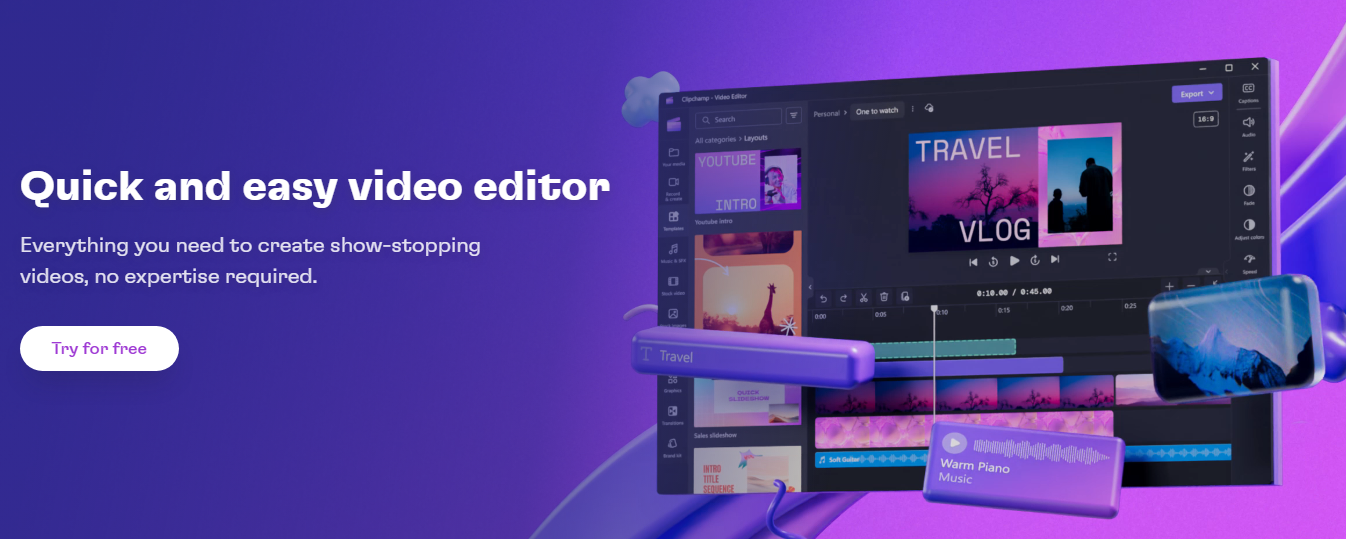 Recently acquired by Microsoft and made a part of their Microsoft 365 suite, ClipChamp is also available as a free stand-alone download. Designed as an entry-level video maker, the platform offers features and templates that can satisfy most users' demands.
With a constantly growing array of features at a highly affordable price, ClipChamp shouldn't be discounted when considering high-quality InVideo alternatives.
Top Benefits
Affordability: With a free version that allows unlimited watermark-free exports and a highly affordable fully-featured version, ClipChamp is among the most affordable tools on the list.
Included with Windows 11: Its free version is packaged with Windows 11, so if you're a Windows user, there's no need for extra downloads.
Broad array of features: The platform includes a surprising number of advanced features, including AI editing, a text-to-speech generator, and a green screen editor.
Pricing
A free version with unlimited exports is available, while the Essentials plan is available at $12/month or $99/year.
Bottom Line
Don't be fooled by the suspiciously low cost. ClipChamp is an excellent video maker that's perfect for beginners while still offering all the essential features.
---

Vyond is a video creation tool specializing in creating animated videos from templates. After selecting a template, you can customize videos to your liking, creating great videos which raise audience engagement.
The platform also includes AI enhancement tools, such as text-to-speech, speech enhancement, noise removal, or background removal. It's also possible to create animated videos and movies using text prompts.
Top Benefits
Unique, dynamic videos: You can use several preset animation styles and a variety of templates to create presentations for all purposes.
Huge library of characters and props: Thanks to Vyond's selection of unique objects, there are endless possibilities when creating animated video content.
Image import: You can also import and edit your own images and reuse them to help you create videos.
Pricing
Essential, Premium, and Professional plans are available at $49/month, $89/month, and $179/month, respectively. With an annual subscription discount, you can get them for $25/month, $54/month, and $92/month. The Enterprise plan is available at custom pricing.
A 14-day free trial is also available.
Bottom Line
Due to its features, Vyond is ideal for businesses looking to create interactive animated videos for marketing or demonstration purposes. It makes amazing explainer videos for businesses!
---
Biteable is a video creation tool focusing on multiple use cases, mainly for corporate environments: announcements, advertisements, internal communications, and more. This Invideo alternative can create animated and live-action videos, as well as pre-optimized web content such as Instagram ads.
Users can create videos with simple text prompts, following one of many pre-built templates. This makes it possible to create a video in only a few minutes.
Top Benefits
Easy text-to-video: Biteable's AI can generate beautiful videos from text prompts in mere seconds.
Rich visual effects: You can add a huge range of visual special effects to the video with no more than a couple of clicks.
Collaborative features: The platform was built for teams, making it possible to collaborate using shared tools easily.
Pricing
Biteable offers two plans: Pro, for $99/month or $49/month with an annual subscription, and Premium, for $199/month or $99/month with an annual subscription.
A 7-day free trial is also available.
Bottom Line
Biteable's templates and rich collaborative features make it the best choice for companies looking for the perfect tool to create engaging videos for marketing and internal communication.
---
Things to Consider When Looking for an InVideo Alternative
When looking for InVideo alternatives, you should chiefly consider these factors:
Cost: Video editing software can be on the pricier side, so finding a reasonably priced solution might be one of your main priorities.
Features: Depending on your use case, you may want different things from your video editor. It's worth researching all the options and choosing the ones that are best for your needs.
Ease of use: A clunky video editor can completely ruin a user's experience and waste their valuable time learning how to use it. As noted in this article, that's why ease of use is crucial, particularly for beginners.
Support: A reliable support team can make all the difference, especially in a business context, when delivering the final cut in time is paramount.
What Is InVideo?
Looking for an all-in-one video editor that ticks all the boxes? Meet InVideo – my go-to choice for effortlessly crafting stunning, high-quality videos. Boasting a perfect blend of user-friendly features and professional-grade tools, this editor is fantastic for anyone serious about video production.
As an all-in-one video editing solution, InVideo has a lot to offer to most users. Its features, such as social media templates, make it ideal for social media marketers and content creators. It includes tons of stock videos and music for you to use. Its ease of use and affordable price make the complete package even better!
Its sole flaw is that it lacks advanced features when counterposed with similar tools focusing on more specialized use cases. But for a beginner who's just starting to dabble in video editing, InVideo is the way to go.
For a full review of InVideo, see InVideo Review for 2023: An Easy-to-use AI Video Generator.
Final Thoughts
Although InVideo is an excellent solution for most of your video editing needs, all of the listed InVideo alternatives have their strong suits, and will help different kinds of video editors.
This makes them important to consider if you need powerful software to create and edit videos with the help of AI.
If you can't decide between several of these alternatives, why don't you try the free versions and see for yourself which one fits you the most?
I hope that you found the suggestions helpful! Happy editing!
Interested in AI Video Editing? Check out these other articles!
7+ Best AI Video Upscaling Software (Free & Paid)
The 7+ Best AI Video Generators [Text to Video]